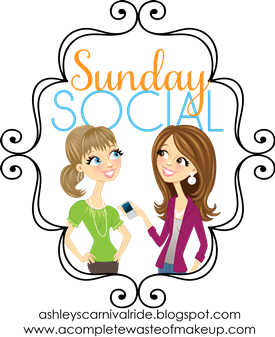 Linking up with Ashley and Neely today for Sunday Social!
What was your favorite trip/vacation/activity this summer?
Hands down, Florida vacation with Anthony's family. I still find myself wishing we were still there. Easily one of the greatest weeks of my life.
But we did take a bunch of little day
trips
down to the southern part of the state which were pretty fab too.
And
activity
? Without question, the barbecues at Anthony's brother's house. Semi-regular Sunday evening barbecues centering around the most delicious
vat
of punch. Heaven.
Favorite outfit/look of the summer/clothing item...
Hmm. This is like the post of recycled pictures.
Definitely this shirt I bought at Kohl's. After much debate and 3 opinions via text and a couple via Instagram, the pesky tie was broken and I gave in to the top on the left.
Clothing item? Gotta go with flip flops. It's definitely not summer without 'em!
What is one thing you wish you had gotten to do this summer?
Hmm... I'm not sure. I definitely wish I had taken
more
pictures, as it took me 3/4 of the summer to finally stop being lazy and dust off the ole camera. But as far as activities? We did
a
lot
this year, so I can't complain at all.
Favorite song of the summer?
Easy. Call Me Maybe. HA. Yeah right. I hope
no
one
ever calls her. Maybe.
But no, I would have to say it's a close tie, in this order..
The Fighter
by Gym Class Heroes - it will definitely always make me think of this summer.
Wide Awake
by Katy Perry - I
love
this song. It's currently one of my favorites. Not so much a summer theme song for me, but since it's one of my favorites right now, I can't not include it, lol.
Favorite movie/TV show of the summer?
Pretty Little Liars - duh. It might sound juvenile to those who are above the addiction, but... I'm not. I sit down every weak and
soak
this
show
up
. The drama, the mystery.. definitely on the edge of my seat. And when I'm not, I'm concocting ways to sneak on set and break in and steal all of Spencer's wardrobe. And maybe a costume person, because, you know,
someone
will have to take in some seams for me... we weren't
all
leggy models, you know.
Speaking of... did anyone catch the last episode? Does anyone
believe it
?? I suuuure don't! But I have been known to revert to denial when things don't go my way on television... control problem. ;P
Have you linked up yet? If not, head
here
to join!