hey guys, gals...
I've seen the
Miscellany Monday
feature for at least a year now, I think, and I've never joined. Since I am, as usual, among the most boring people on the planet Earth
and
fresh out of posting topics, I thought I'd join up this week, and feel less out of place for rambling on about the
miscellaneous
mundane
.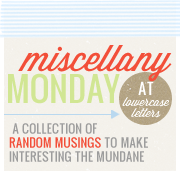 1. Hope all you momma's out there had a fab
mother's day
. After spending the bulk of the holiday
at work
(thanks CB.) I picked up some flowers for
my
momma and then we went to Flatbread (aka
heaven on Earth
) for dinner, and Ben & Jerry's for dessert. Love you mommers! :)
2. Friday we had another sleepover at Anthony's house after going to a Concert of Hope held at one of the high schools (Anthony's brother & cousins were in a band). I adore his family. His mom is like, a rock star. There were 9 kids (ranging from age 14-22) staying at her house that night, and only 3 of them were her own. She had an epic buffet for dinner and then made a fabulous breakfast the next morning. My cousin happily came over and took advantage of them as usual, but more on that load of BS later.
3. Saturday night because I am a giant sucker, I was guilted into working. It wasn't
so
bad because it was a Relay for Life benefit for one of the owner's friend who is sadly losing a battle with pancreatic cancer. Bird (crazy coworker I haven't mentioned in a while) was insane as usual, stressing everyone out, and acting like she didn't need to be there and like it was some huge bother. Um, bitch this is for
cancer
. Can we maybe have a little compassion and sense of charity considering for
whatever reason
after
ravaging
your body in the form of
substance abuse
, you are still alive and well? Count your damn blessings and shut the hell up
for once
, please. Anyway, the benefit was
packed
and looked like a huge success- especially the karaoke.
I got out at about 9:30, and Anthony, his brother Chris, and I made a spur of the moment trip to Mohegan Sun (
literally
... I had time to change my shirt and leave)... not even a week after the last trip... Addicts? Maybe. But I only lost $6, so, that's not so bad right? Oh, and, then I had to get up for work 4 hours after I got into bed... around 4am ... oopsy. But it was worth it. We saw the same breed of crazy as usual- like giant pink shoes with huge flowers,
and
no one lost anywhere near as much money as normal. Sounds like a success to me! I love the casino...... hehe.
And, well, that's about all I can scrounge up for this post. Not too shabby, right?
I liked this... I might even be back for another round next Monday!