Hey everyone! I'm back for week 5 of the 10 Day You Challenge with
Lauren
&
Tiffany
!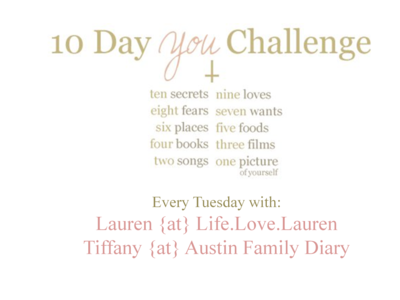 I promised a vlog for one of the weeks, and here it is!
Disclaimer: My voice sucks, and yes, the topic is five foods. So it's true. I am literally sitting here for a matter of minutes rambling on about
food
and ignoring my dear BFF
Sierra
in the process. It's a sad thing.
Phew! That was painful!
Sorry for the volume... I didn't realize it was so quiet. It sounds like I'm mumbling, but I was actually talking pretty normal. Borderline loud. Hope no one heard me! Is it weird that I get embarrassed when I do vlogs? I have always felt weird talking to a screen, so I usually wait until no one is home, or go off and do it somewhere else with my phone. What a loser. Hehe. Anyway, hope you all enjoyed, and be sure to head over to Lauren or Tiffany's blogs to link up with your five foods!