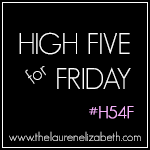 Today is fantastic for two reasons. First, and most obviously, it's Friday. Amen. Granted, I only have Saturday off, but it's still nice to experience 1/2 of the normal Friday bliss. And anyway, I have Monday--Wednesday off to galavant around the beach so, I can't complain too much!
The second reason today is fantastic, is of course, it is the first day of summer! Ahh! Finally! While it has felt like summer for the past couple of weeks, it's nice to be able to now call it summer and not know that you're still in the middle of spring pretending it's the best season of the year.
Anywho, onto high five Friday, shall we?
1. I had my first 6-month review at work today. I just came from it in fact. Along with the review comes a raise, and the opportunity to hear what the boss thinks of your work and progress. It went well, and gave me an opportunity to sort of voice some of the things I wanted to get off my chest about my experiences in the last six months. It was nice to hear she agreed with a lot of what I said, and I left feeling better about our employee-employer relationship. Up until now it has been kind of a love-hate thing, but it's good to see that she notices more than she lets on. Maybe I misjudged her.
2. This week I finally finished up my
social media icons
. They had been MIA from my blog for a while because I was trying to make new ones, and had run out of time to do so. They are a little larger than I originally envisioned, but they will do until I can find time to cut them down to size. Are we friends on Twitter, Instagram, Google+, Pinterest, or Facebook? Do you follow my blog on bloglovin'? No? Well now you can and we can be! Take my new buttons for a spin! Mostly because I love tweeting with ya'll and Instagram is like crack for me... hehe.
3. I purchased and downloaded a new tutorial based program to help me get better aquainted with my camera and photography without having to pay a bunch of money to take a class. Maybe not anytime soon, but I hope this at least brings me closer to the photography business!
4. My car went in and was repaired after a recall notice regarding my air bag.. Yes! Finally I can drive without fear of my airbag going off in my face and breaking it or my arm or worse. But, let's be honest, I had this fear for a total of about seven days, after I finally received the recall notice. For all I knew, this could have happened anytime in the last four years of owning the car. ;p
5. I have found a new TV addiction. Don't judge me, but embarrassingly enough, I have become quite into a new show called Pretty Wicked Moms. Another form of a "real housewives" show? Reality garbage? Wasted money and time given to a bunch of catty women flaunting their money and mean streaks? Yes, it is all of those things. But for some reason, it sucked me in like the typical American reality trash whore young adult. I wish I could say it didn't. For some reason, I enjoy a lot of these shows chock full of people I love to hate. What's wrong with me? Lol
What about you guys? Any fun plans for the first real weekend of summer? What were the high points of your week? Head on over to Lauren's blog to link up!